April – as the days lengthen, the garden is really coming to life, in spite of the continuing cold spell!
Growing plants can be really relaxing and satisfying, with the flavour of home grown produce to look forward to.
There's such a wide choice of things you can grow, depending on the time and space you have available.
Below you will find links to the information to help you get started and achieve the best results.
If you haven't started yet, there's no better time to begin.
Even if you don't have a garden, you can successfully grow plants in containers – on a patio, a balcony or a window sill.
In fact, window sills can be a good place to start sowings in pots & seed trays while it's still not warm enough outside.
Getting started
Advice on setting up a vegetable patch or raised bed and preparing it for sowing
Crop rotation
Avoid growing the same thing in the same place year after year, as this can lead to a build-up of pests and diseases.
Even if you don't have room for full-blown crop rotation, do what you can to ring the changes.
If you run out of space, there are lots of things that can be grown successfully in containers.
The Modern Kitchen Garden
Useful advice from Barry Newman, past Chairman of the National Vegetable Society, with some innovative ways of doing things.
Time to sow indoors in pots or modules seeds that it's still too cold to sow outdoors:
tomatoes, peppers & aubergines, if you haven't started them already;
and now you can sow:
courgettes, sweetcorn, runner beans and French beans;
so they will be ready to plant out as soon as it's warm enough.
Sweet peas – can now be sown outdoors and you can plant out any you started earlier under cover.
Useful tips from local breeder & grower, Roger Parsons:
How to Grow Better Sweet Peas
Broad beans – can now be sown outdoors.
However, sowing indoors in pots or modules will get them off to a quicker start and avoid the seed being eaten by mice or voles.
The young plants can then be planted out at the right spacing after hardening off.
Peas can now be sown outdoors.
However, you can get them off to a quicker start by sowing them indoors in lengths of guttering – also avoiding the seeds being eaten.
Potatoes – this is the time for planting seed potatoes – exactly when depends on the varieties you choose;  bear in mind they will need chitting before being planted.
To find out all the details, click on the "Growing potatoes" box in the How to go about it section below.
to see a wide range of other
things to do this month, go to
How to go about it
Click the boxes below to access the information you need, often with helpful videos:
look at some activities from
RHS Schoolgardening
for instance, enchanting…
Miniature Gardens
or choose something that will produce results quickly, such as cut and come again salad leaves.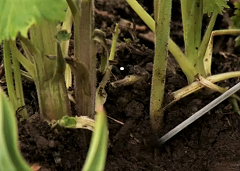 Basal cuttings A very straight-forward technique that can be used now on the strong new growth of herbaceous perennials, particularly delphiniums, lupins and lamium.
Root cuttings can also be taken now – a simple way of propagating some perennials and shrubs that are not amenable to hardwood cuttings, such as oriental poppies, Japanese anemones, verbascum …