That very frosty week that we had in December may just have been a warning, as January is traditionally the coldest month; so check out the December and November pages for things to bear in mind when it's frosty in the garden and ways to protect plants against the cold.
There are still jobs to be done around the garden when weather allows, not forgetting any plants you may have in the greenhouse or indoors.
And when it's too cold or wet – plan for the new season in the warm.
Wishing you successful and enjoyable gardening in 2023!
Click on any picture or text link for more info 
Remove the jaded old leaves from hellebores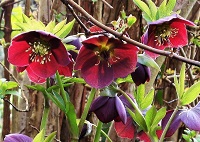 – this will allow the new flowers to be displayed to better effect and will also clear away possible sources of hellebore leaf spot.
Forcing rhubarb can be started
this month: cover the crown with straw, then put a forcing pot or up-turned tall bucket over the top to exclude the light.
Make sure you keep slugs and snails at bay.
Inspect any stored fruit regularly,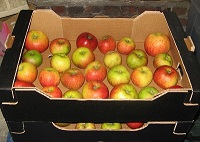 to remove any rotting ones and prevent the infection from spreading.
Likewise, any Dahlia, Canna & Begonia tubers that you may be storing should be inspected for any signs of rot or drying out.
The final pruning of wisteria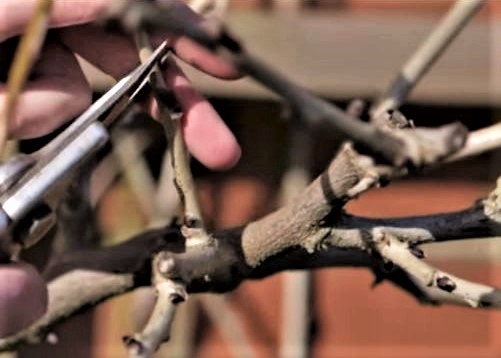 should be done in January or February.
Cut back last season's new shoots to two or three buds, whether or not they were shortened in the summer
Hardwood cuttings

can be taken now – an easy way to get additional plants of your favourite deciduous shrubs, and some climbers, for free.
See here how straightforward it is.
Winter pansies:
watch out for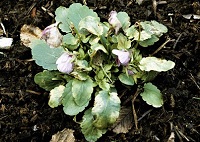 downy mildew and black spot.
Remove any infected leaves – any plants that are too badly affected should be destroyed.
Lily bulbs
can be planted in containers and, during mild spells, even in borders .
Late January is not too early to start sowing aubergines, peppers and tomatoes in a heated greenhouse or conservatory, or on a warm window sill – they need a long growing period and this will give earlier crops.
A winter wash for fruit trees & bushes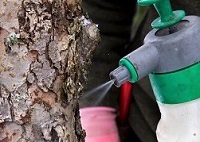 can help prevent pest damage in spring & summer. Be sure to choose a dry, calm day not threatened by frost.
Improve drainage of heavy soils by working in lots of organic matter. Grit is only effective in conjunction with this.
When gardening on wet soils work from a plank of wood, rather than treading directly on the bed, to avoid compacting the soil.
Big Garden Birdwatch
Take part in the RSPB count 27th – 29th January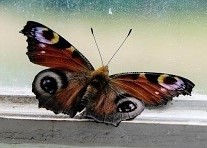 Butterflies & Moths
Where do they go
in winter?
Click to find out.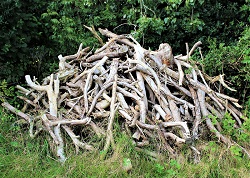 Use Old Wood to Benefit Wildlife
A feature in an odd corner that will welcome a wide variety of life.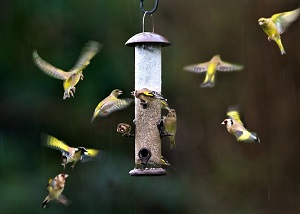 Wildlife Gardening
Top 10 Tips for 2023
all explained by
Sussex Wildlife Trust
Click any day below for a more detailed weather forecast, which also looks further ahead